Bjarke Ingels Group (BIG) has opened the Robert Day Science Center at Claremont Mckenna College, which is designed in a Jenga-like stacked format in an open, column-less layout.
The Science Center will house Kravis' Integrated Science Department, which will take a multidisciplinary computational approach to solving the socio-scientific challenges of the present.
The building, which will cover an area of ​​12,542 m2 (135,000 square feet), is designed as a structure stacking two volumes, or rectangular blocks, two per floor, with each pair rotated 45 degrees from the floor below.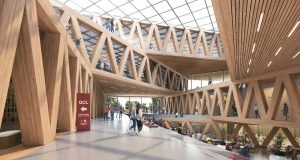 Inside, each individual volume is expressed as a rectangular beam clad in wood on the long edges and as a floor-to-ceiling glazed facade on the shorter sides. The continuous rotation of each floor creates a sky-lit central atrium at the heart of the building, providing views of classrooms and research spaces on all levels. Upon entering, students will find themselves in a full-height atrium with open spaces for collaborative activity, embodying the center's architectural and educational approach.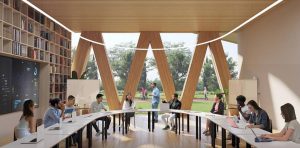 Teaching and research spaces are organized around the perimeter of the building, providing classrooms with scenic views, while drawing quieter teaching spaces away from the more social atrium. Overall, the materials to be used in the interiors are defined by the contrast of warm wood-clad beams, concrete floors, and functional dual-purpose surfaces found in the built-in labs.
Project collaborators are Saiful Bouquet, structural engineer; Acco Engineered Systems, mechanical, electrical and plumbing (MEP); Atlas Civil Design, civil engineer; Landscape architecture LRM, landscape architecture; Rosendin Electric, electrical and fire alarm engineer; WSP USA, MEP and LEED consultant (Leadership in Energy and Environmental Design); Jacobs, laboratory planning consultant; ARUP, consultant in acoustics and internet technology (IT); KGM, architectural lighting consultant; Heintges, building envelope consultant; KOA, pavement and traffic design; and EWCG, vertical transportation consultant.
"More than ever, we are witnessing the confluence of previously distinct disciplines. Breakthroughs in computing and data science lead to breakthroughs in the natural and life sciences. Accordingly, we must provide spaces for the integration of these previously siloed sciences. The architecture of the new Robert Day Sciences Center seeks to maximize this integration and interaction," says Bjarke Ingels, Founder and Creative Director of BIG.
The construction of the center is expected to be completed in 2024.