a new apartment complex for munich
berlin-based thomas kröger architekten presents a multi-storey apartment building nicknamed 'erhardt10' along the banks of munich's isar river. the complex marks thomas kröger's first full-scale building in downtown, known for its award-winning buildings in the rural and remote setting of northern germany.
hybridizing historical and contemporary references, the project is defined by its graphic facade, its courtyards, and its proximity to the river.
images © philipp obkircher | @philippobkircher
spatial variety by thomas kröger architekten
thomas kröger architekten (see more here) worked together with the Munich developer euroboden (see more here), which acquired the adjacent property to isar in 2013. according to company founder stefan höglmaier, such a prestigious location requires a architecture that fits confidently among the buildings protected from the monuments that line the riverbank and celebrates the view of the river, while recognizing the heterogeneity of the gärtnerplatz district.
a distinguishing feature of thomas kröger architekten's design is its wide variety of unit types – a tribute to the structures that have evolved in the neighborhood. The kröger ensemble is a mediating force between the representative buildings along the river and the typical workshop character of the courtyards in the region. its differentiated built volumes translate into a total of twenty-eight apartments, much more living space – in a variety of price classes – than was available on the site before. the elaborate design of its facades and exterior spaces, as well as the heterogeneity of its inhabitants, is a real exception in contemporary private residential construction.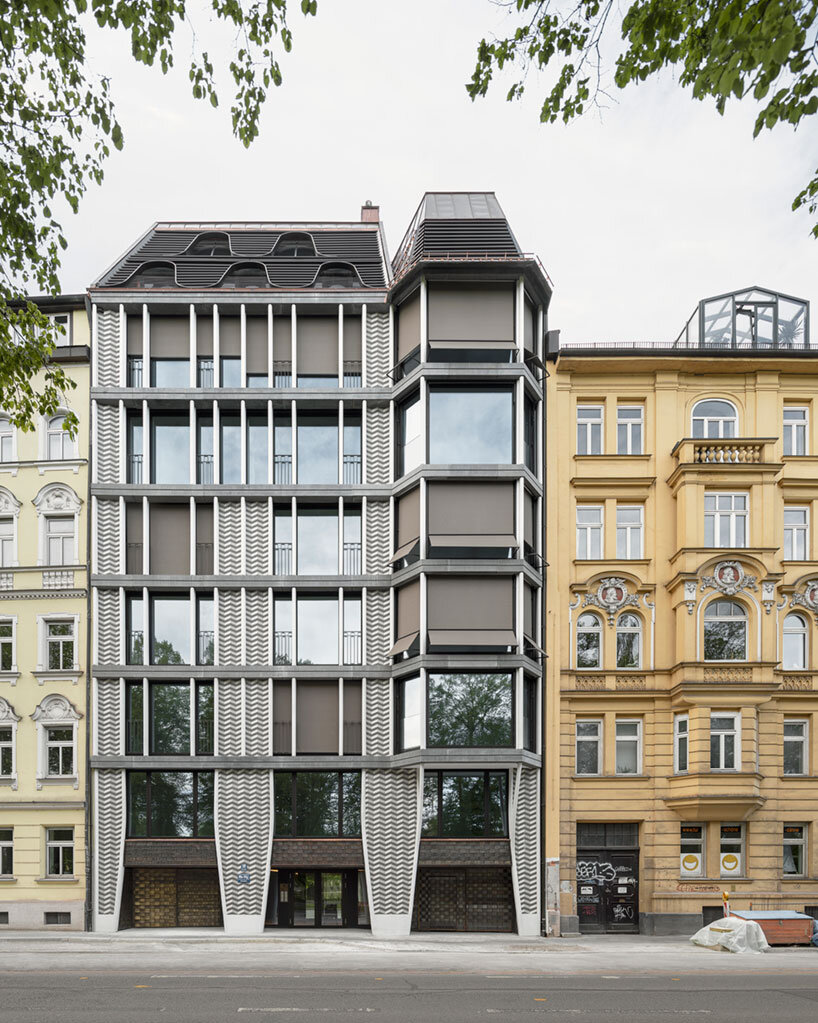 the historical influence of the facade
thomas kröger architekten's munich design plays with historical and contemporary references. the architect notes: "urban spaces are pleasant when we perceive them as having grown organically, when the interaction of different architectures results in a total charismatic image",
facing the river isar, the new building fits confidently into erhardtstrasse while fulfilling the monument protection framework and gaining broad approval from the munich design commission. with its set of projecting columns and bay windows, the facade adopts the classic patterns of the high-end habitat typical of the surroundings. at the same time, the bay windows and their floor-to-ceiling glazing embody all the advantages of the modern, making the river view an integrated component of the living spaces.
meanwhile, the graphic design of the closed façade elements is reminiscent of the italian renaissance sgraffito technique, which also had a tradition in munich during the post-war years but is rarely used today. the two emblematic sloping roofs serve as an intermediary between the different heights of neighboring buildings. their copper cladding draws attention to the unusual shape of the roof while, at the same time, the patina that the copper will acquire over time will integrate it ever more clearly into the historic roof.